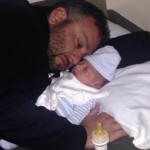 Meet my brand new grandson with his dad!
He was born less than two days ago, a healthy 8lbs 1 oz little boy. I skyped into the birth room a few minutes after his birth. Not being there to share in the joy of holding him was weirdly painful, the feeling of a bottomless pit in the depths of my core. He is my son's son; he is my first grandchild and I wasn't there because we live a continent away and we had planned the trip around the delivery date – of course not knowing exactly when he would arrive. I will be there in a couple of days but this – now – seems so not enough!
Not being present in your kid's most important moment is one of the hardest and most painful choices a parent can make. And this is not as innocent as all the ballet and soccer games you might have missed because of meetings going overboard.
Having kids very young is fantastic (it was for me). However, this also implies that the role of grand parenting has gone from the traditional model of white haired benevolent old grannies and grandpas to active middle-aged folks who have other obligations, responsibilities and as an extension, choices to make. And hence, the grandparents' dilemma!
I think about him and my son and daughter-in-law all the time, living in their timezone – carrying around my cell with all the gadgets and the portable technology that allows me to be hooked into their lives.
Hindsight is easy and beating yourself over something that was done is not helpful so I am trying to get some sense into me as I am writing this. I love my son – and raising him to value his family and his child the way he does is partly attributed to the way he was raised. I am proud of him for who he is, his vulnerabilities, his tenderness, protectiveness and toughness. He fell in love with his son – and he brings tears to my eyes as he is describing his perfect baby to me. I teased him yesterday saying that my son was much better looking than his. He simply answered: "Just wait till you hold him." I raised him to be wise. I know he is right and I can't wait to admit it.