To live as you will never die…
So mindlessly easy to get caught up in the day-to-day and forget what really matters to you. But, some things are so worth dying for – better yet live for. Indelible Jack Nicholson and Morgan Freeman immortalized the thirst for life in the Bucket List inducting the term in urban dictionaries.  So, what do you want to do before you die?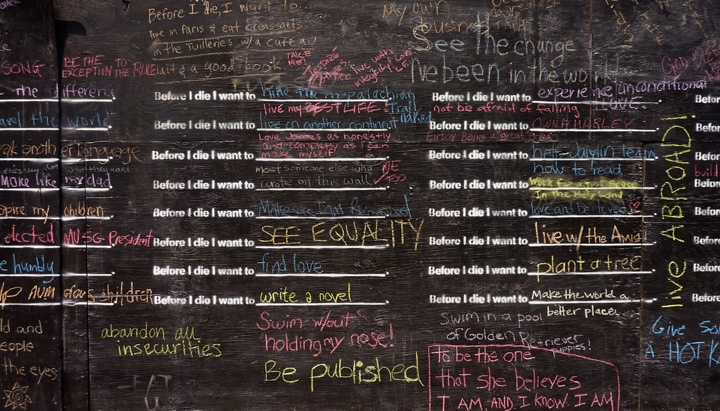 Candy Chang, a senior TED fellow turned the side of an abandoned house in her neighborhood in New Orleans into a giant chalkboard where residents can write on the wall and remember what's important to them. Before I Die is an interactive public art project that invites people to share their hopes and dreams in public space, a project The Atlantic called "one of the most creative community projects ever."
It's the job of storytellers, troubadours, instigators, agents provocateur, artists, entrepreneurs extraordinaire to nudge us all in our small little corners of the world. Poking, baiting, cajoling can take you from the dreamland to the real world. Determination is not a shapeless mantra but a sort of psychological muscle that can either atrophy or pump up.  Dreaming "it" first, whispering it in the mirror, writing it on the wall – the visible or invisible wall of fellow travelers' circle in the journey of life makes the goal seem closer – whether you reach it or not – it's how pumped up you really feel.
So, what do you want to do before you die?