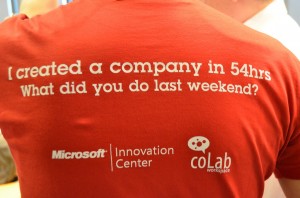 54 hours – just a weekend really.
Yet, the startup marathon  last weekend in Athens was so much more. About 150 brilliant Generation C young men and women (Connected/Communicating/Content-centric/Computerized/Community-oriented, always Clicking) did their magic, pitching their business ideas.
"We are determined to set the trail, not just follow the path," said Eleni Natsi, one of the participants. And she continued: "I always believed that innovation does not necessarily require satin and silk dress-up. We wander around wearing bullet-proof waistcoats to dodge the bullets of fear and surrender. Creativity,  enthusiasm, energy. That's all we need for this."
And while Athens was going through another rough patch of tear gas and street hooliganism, one of the teams' office space was burned down. The Niobium Labs team wrote the day after:  "We realized it can take a few hours for new ideas to be born as long as people work together and take advantage of their creativity. However, it also takes just a few hours to destroy everything and create chaos. These are the two sides of Greece. And we choose to look at the bright side."
Having experiences does not make us who we are. Reflecting on our experiences does. So, I want to take the time to pay tribute to everyone who stood up, refused to surrender and fought in the great fight of creating their startup. Keep on learning; keep on fighting and don't let anyone take away your dreams.
PS: For a flavor of the ideas and projects just see the Athens Startup Weekend blog.